Panacea 15701 Fireplace Tool Set, 5 Piece, Gray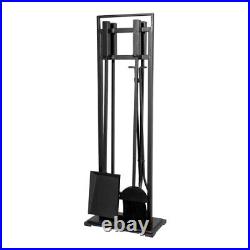 Ensure you have essential fire-tending tools in a convenient location with the Panacea 5 piece Fireplace Tool Set. This sturdy tool set features a dark gray finish in modern Prairie style. Size: 10.9" W x 6" D x 31 H. Set includes: stand, poker, broom, shovel and tongs.
Bold rectangular frame with matching base. Tools have thick rectangular handles and thinner square metal shafts.