Chippendale Claw Ball Companion Fire Place Tools Andiron Stand Set Lge 68cm/26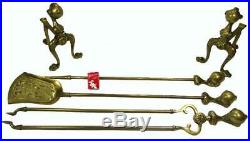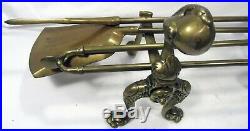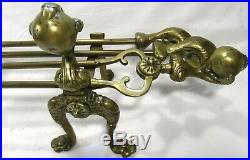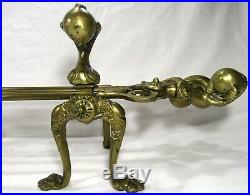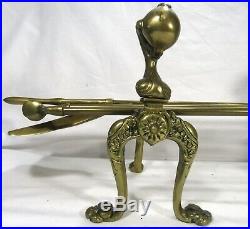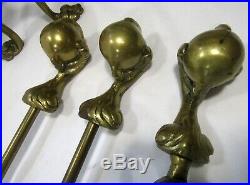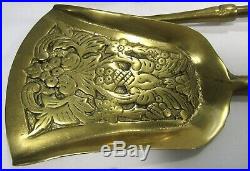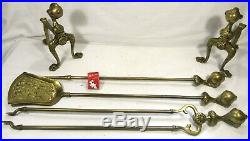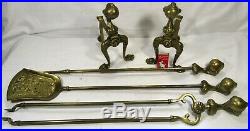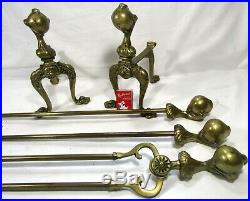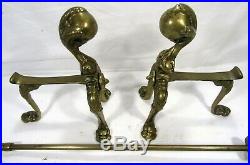 Chippendale Claw Ball Companion Fire Place Tools Andiron Stand Set. FREE POST AUSTRALIA WIDE - 1 DAY DISPATCH SERVICE. You are viewing a quality reproduction Chippendale styled 70s Vintage Companion five piece Set of two Brass Andiron (Fire Dogs) Tool Stands with Chippendale's Signature form with Cabriole Legs and the top of the Fire dogs being an eagle talon holding a ball, commonly known as'Ball and Claw. Complete with a three piece Fireplace Tool Set consisting of a spade, poker and tongs, and each of the tool handles also have the matching Eagle Talon Ball and Claw design, the spade has lovely emboss foliage designed within the spade. These are quite a long set (68 cm / 26 ¾ inch) for a medium to large fireplace. The entire set of 5 pieces each has a great patina. Hardy Brass and Bronze is suitable for both indoors and outside, it will not rust away quickly like iron. These tools will last for generations to come and one day will be the antiques of the future. Metal Art is an investment and will only increase in value as the worlds supplies of metals such as copper diminish & base prices rise. There are 3 main types of tools commonly used to tend an indoor fireplace fire or yule log: the tongs, the spade, and the poker itself. These tools help you handle a fire without the risk of burning yourself. Iron is the most popular metal from which most fire tools are wrought. Brass is a more expensive alternative for a home fireplace toolset. A fireplace poker or fire iron is a rigid rod used to poke and adjust coal or wood burning in a fireplace or to stir up a fire. A fireplace poker has a point at one end or a hook for pulling or raking. Other fires irons include fire tongs, fire shovel, and a small broom for sweeping up the used coal and ash.
The word andiron came from Middle English and Old French meaning hand-iron. , also known as firedog, or fire-dogs and sometimes simply called a dog or dog iron. A French term for an andiron is "Chenet, " which originally meant Little dog. Andirons have been used since the 17th-century BC by the Ancient Greeks. Andirons are pairs of fireplace bracket supports, you lay logs for burning across the andirons in an open fireplace, this allows the air to circulate around the wood, to burn better and produces less smoke.
They have a tall vertical decorative piece at the front, with at least two legs. This stops the burning logs from rolling out into the room. The other part is a low horizontal bar or bars that stretch back standing on a single or double leg, that holds the logs off the base of the fireplace. If this is not for you I also have other unusual Brass, Copper, and Bronze items in my Shop.
Please go to my store to see the full range. This set is Vintage 70s, Pre-Owned, and the set overall is in Excellent Condition. These were a wedding present that was never used and have a naturally aged patina. # Please note: The Photographs form part of the description; Super-sized photos can show up the finer details and condition. Photos do not show the actual size so please read the description page to get the exact measurements.
Colors may display differently, depending on your computer and settings. Highly reflective shiny items, such as metals, silver, gold, jewels, and glass reflect everything including us! The item featured the Photos is the exact one that you will receive.
The lead photo has had the background removed with Photoshop, all the original untouched photos are also included to view. Any errors will be accidental and not intentional or purposely misleading.
Item is measured in both centimeters and inches that are rounded to the nearest quarter inch. Approximately unpacked (all 5 pieces together). POKER 67.5 cm / 26½. SPADE 68 cm / 26¾. TONGS 66 cm / 26. ANDIRON: 23 cm / 9 (from leg up to the top ball claw finial). POKER 5 cm / 2 (at handle). SPADE 11.5 cm / 4½. TONGS 8 cm / 3 (at the shoulder). ANDIRON: 14 cm / 5½ (at the feet). SPADE 5 cm / 2 (at handle). TONGS 5 cm / 2 (at handle). ANDIRON: 19 cm / 7½. All measurements are approximate only. 100% AUTHENTIC ITEMS unless otherwise stated. Well wrapped and as described. I highly recommend knightsgold to one and all. As advertised, well packaged and arrived on time. Item was packed very well and exactly as described. We love Art, Antiques, Vintage Collectables and Handcrafted Items and are avid collectors of unusual art crafted from Natural Materials.
We restore some of our antique pieces, where we can, any restoration work will be noted in the description. I have a large range which is predominately Militaria and Wood and Metal Craft, such as Bronze, Brass, Copper, Silver, Silver Plate, Pewter and Cast Iron. We also stock Carved Stone, Art Pottery, in fact, everything handmade from Natural Materials and especially unusual items. Such as Statues, Figurines, Sculptures, Door Hardware, Vases, Hollowware, and Flat Ware. We also sell NEW handmade Fashion items such as Hand Knitted Novelty Wool Hats and Beanies, Hemp, Silk, Velvet and Cotton Bags, Purses and Wallets.
You will not get an unpaid strike. I do not accept Credit Cards.
Free Post Listing is not available outside of Australia. Signature is an optional extra (please contact me if you want Signature included).
Please feel free to contact me for quotes. Please contact me for details.
OVERSIZE ITEMS: Items that weigh over 20 kg cannot be posted. Items over 105 cm in Length cannot be posted. Most of my items do not have original packaging and I use new heavy-duty bubble wrap and recycled cardboard, paper as my packing materials.
If you require a Fragile Service, you will need to find a courier company that offers this service. Australia Post does not offer a fragile service so items cannot be covered for damage in transit. However, I deal mainly in Metal-ware so breakage is rare. I use heavy-duty bubble-wrap and recycled boxes.
Please carefully read the description & view the photos in the gallery to judge for yourself. I try to photograph my items from every angle. Photos also form part of the description. Please note that the colors may appear different on different computer screens. As New - An item that looks like it has just had its shrink-wrap removed.
No visible wear, the item is flawless and intact. Excellent - Minor wear consistent with age and history.
Very Good - Minor to moderate wear and tear. Good - Moderate wear and tear, but still has good years left. Fair - Has lived a "full life" and has a distressed look with noticeable wear. Work Needed - Great bones, but will need some work or restoration. If there are any questions about the item, please don't hesitate to contact me.
Please contact me with any further questions. I consider that my commitment to my customers is not finished until the item is safely in your hands and you are happy with it. I will then be able to help you and know what I should do to sort out your disappointment. This way I will learn how and where I need to improve my service to my customers. Again please contact me if you are unhappy in any way and I will do my very best to fix the problem whatever it may be. Txzj pxzj37350 txzj-11 txzj1 txzj115. The item "Chippendale Claw Ball Companion Fire Place Tools Andiron Stand Set Lge 68cm/26" is in sale since Saturday, April 25, 2020. This item is in the category "Home & Garden\Fireplaces & Accessories\Pokers, Tools & Sets". The seller is "knightsgold" and is located in Hervey Bay, Queensland. This item can be shipped worldwide.
Model: Ball and Claw
Modified Item: No
Colour: Gold
MPN: Does not apply
Custom Bundle: No
Material: Brass
Brand: Unbranded
Tool/Set Type: Tool Set